Being a planner and having "issues" with control are traits that often come packaged with being a firstborn child. Since I was born ten months after my parents' honeymoon, my mom said I started running things when I was two. Because I have had these traits longer than I remember, much of my life has been spent planning for things I actually know by experience will not happen the way I plan them. Yet even with that knowledge, I still look ahead and plan, because it's the way I'm wired. The irony of this behavior is that my inability to stay focused on the present can actually impact the future I'm trying to control. I can miss opportunities around me because I am too focused on what's ahead. So, today, writing about the present view lens I decided to do just that.
It's Maundy Thursday, and volunteers from churches throughout Santa Barbara gather at the Vet Center to give the Homeless and disenfranchised in our community a breakfast, along with an offer to wash their feet.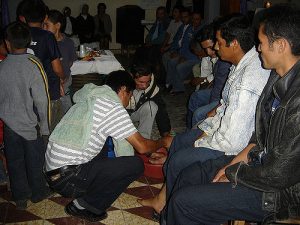 I've never gone, and frankly the thought of it slightly terrified me– which is always a good indication that it might be something God wants me to do. So I went, along with my good friend Laila, and many other volunteers. In fact the volunteers out numbered the homeless, which gave me a good excuse to turn around and decide there were enough. But Laila and I were committed by now, so we each sat at a station with a bin full of water, waiting to wash someone's feet.
Enter Arturo. Toothless, yet full of warmth, he was led to the seat in front of me, and when I told him what I was about to do he buckled. "I have fungus on my toes", he blurted out, embarrassed. And I said "I've had that too. I still struggle with it on one particular thumb." He smiled.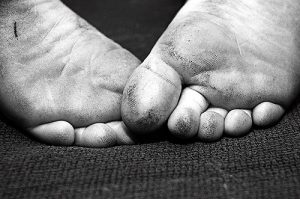 I started to reach for the plastic gloves, but they kept falling off so I decided the antiseptic at the end would cover it. Then I engaged in washing Arturo's feet. And just as I imagined he would, Jesus showed up.
Arturo told me about his expired green card and how he was waiting till June to find out his fate. "What will happen if you get sent back to Mexico?" I asked. He said his parents had died, and there was a house there where he could probably stay if it came down to it. His twelve brothers and sisters were all here in the states, as well as his children and fifty years of life, but if that's what happened, he would go. He was, however, still hoping things would work out to stay.
Arturo was a dishwasher at a restaurant, and barely made enough to make ends meet. He heard there were free shoes and food this morning so he decided to show up. The missing front teeth didn't help him in finding employment, but he could not afford to fix them. (He also said new teeth were only $900 in Tijuana, so my husband and I are thinking about commuting for dental care.).
I said "So you are just waiting to see what happens to see where you will end up?" And he said "Yes."
He wasn't anxious. He seemed relaxed. Living day to day with little work and not always enough for meals had taught him that. He would go wherever he was led.
And in that moment, Arturo brought me Jesus. Being in the middle of a book launch, trying to offer myself for speaking gigs, wondering what the future holds for our income, Arturo's peace spilled over me.
I washed his feet. But he helped wash my soul.
Arturo helped me to remember once more why I even wrote this book. To remind us to take in all that is around us. And on this Maundy Thursday, I'm thankful Arturo was placed in my view.
For more information on When Changing Nothing Changes Everything, follow this link: http://amzn.to/2mQsyA8