For those of you just tuning in to my blogs, I've been in the middle of previewing my new video series which I am VERY excited about (see previous 5 blogs). But I had to take this commercial break to acknowledge a couple big things that happened in Santa Barbara- and my life- this week.
If you are keeping track of our mudslide drama, you know that approximately 25,000 of us were evacuated YET AGAIN for the ominous three day ten-inches-of-rain storm this week… and as I write this blog, we are waiting for one more wave to hit before we have officially made it through. Our dear friends the Zylstras offered us housing on Monday just before the storm hit, so we have been camped out in safety, but it was a faith stretching time as we prayed and committed our Montecito hills to God. Here's a shot of one of our creeks thankfully doing it's work!
In the middle of all this, I had my second foot surgery scheduled (left foot bunion, plus the right third toe) for Thursday, March 22, which turned out to be the third (and scariest) day of this storm. For the record, it had been scheduled for THREE MONTHS for THIS DAY to coordinate the six week recovery period with my speaking schedule.
Always one to take note of the timing of circumstances, I knew this was somehow relevant for a girl who speaks about trust and faith, and encourages people to live it out in the middle of the story. Funny how God likes you to actually live what you speak.
You can imagine the potential of relaxed trust nail biting stress, watching this three day storm on the horizon,  not only with our family's fourth evacuation this year, but also with the logistics of my surgery being scheduled in Oxnard. That's 35 minutes south with the Montecito stretch of the 101 (which they thought would probably close) as the only way to get there. Both my doctor and I were going to have to make it down the freeway in one of the highest predicted peaks of this storm. To add to the drama, the next surgery opening was April 10th, a time that would not work with my speaking schedule.
Every hour, news reports threatened possible freeway closures as we watched the storm descend. Every burst of rainfall, they said mud flow and debris would probably be unearthed, and it was a good possibility the freeway would close. Needless to say, my sleep in our evacuated home during the two nights that proceeded my scheduled surgery was not exactly the most restful I had ever had. Yet sitting in this uncertainty and lack of control, I somehow knew this was exactly what God had for me.
So here's what I discovered to pass on to anyone else who finds themselves in the middle of their story, not yet knowing what is to come.
1. God's work happens more in the process than the outcome. This whole ordeal was not as much about whether my surgery did or didn't happen, it was about what happened inside me as I worked my muscle of faith. Every time I let go and gave it to God, my faith muscle painfully grew, and I'm pretty sure that was what God had planned as I sit down to write a third book about faith. (first draft due June 1- stay tuned).
2. Coincidences carry meaning and shouldn't be ignored. The timing of events and circumstances in our lives are for a purpose, but it takes some time- or Selah moments- (see previous blog) to reflect on what these "coincidences" are about. Take a moment to look through the rear view lens for your best view of what God did.
3. The greater our potential for worry, the greater our opportunity to grow. Being willing to live in uncertainty and wait for God just might be the whole battle when it comes to spiritual growth.  My sleepless nights of being tempted to grasp at future control through worry, (which always works SO well according to Matthew 6:27 http://bit.ly/2FWeTRY), were an opportunity for prolonged prayer and growing my trust, And that, I believe, is God's greatest desire for our faith. When He has our trust before we know the end of the story, there is no end in what He can do with us and through us.
To wind things up (and give you a picture of my next 6 weeks) the end of the story turned out to be just the way I hoped it would be.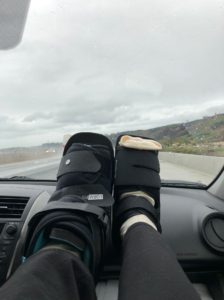 But it was the storm that made the story the way God hoped for the things that happened in me.
Maybe He's working the same way in you.