This has been a week of coming close.
It's the Advent season, and many of you are aware that we have a huge fire going on (currently 238,000 acres), so we've lived the last 10 days coming very close to being evacuated. Most of our neighbors have left because of the smoke, but because my husband is the IT supervisor for the sheriff's department, we had to stay. These attractive masks have become our unwanted fashion statement, and we've lived 95% of our days indoors breathing what little non smokey air we have left. Every night we see flames, but so far the fire has been held back by the 8,000 firefighters battling this blaze. On Monday night, I took this picture looking up from our street,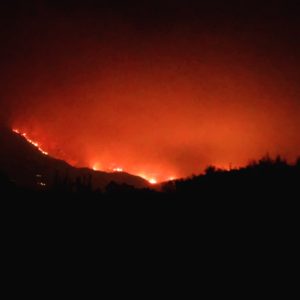 and you can imagine how restful I felt when the authorities told us that the fire looked much closer than it was. Needless to say I had our bags out and a packing plan as we went to sleep.
The next morning the line was held, but every day they tell us we are not out of danger yet because it's only 30% contained and the winds are scheduled to pick up. (Totally non anxiety producing thought.) However thanks to all our amazing firefighters- the fire is so far being beaten back– and Santa Barbara is only close to the path of destruction, not in the middle of it. Our only current problem is the ash– admittedly a small price to pay for the fire being kept at bay.
.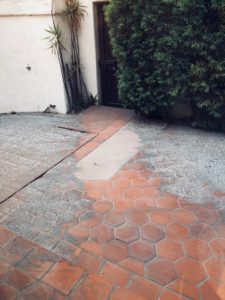 On a completely different note, this week I was also informed by my publisher that although I came very close to winning the Reader's Choice award, another book took the prize. I had 220 votes, (thanks to all of you who voted!) which felt like a really big number, but it was not quite big enough to win. Unfortunately they don't give second prizes for these kinds of things, so only the first prize winners get the nod:  https://www.ivpress.com/pages/readers-choice-awards-2017
Naturally I was a little disappointed, but when I took some time to think about the ways I came close this week, I realized that circumstances that seem totally unrelated can bring you a life lesson if you are paying attention. The truth is, coming close can be good or bad depending on what's at stake. When it comes to fires, coming close is a lot better than burning up; and while coming close to winning an award is not nearly as good as getting it, I'd choose my city being spared over getting an award that might boost sales.
So I'm grateful this week for coming close. And when you write a book about perspective, it's important not to miss it when you are shown an angle on your circumstances that opens your eyes to grace.