When I first started out in ministry, I worked with a youth pastor who had this sign up in his office:
"Now Serving an Audience of One"
It came to mind again last weekend when I spoke at Creation East http://creationfest.com/ne/lineups/
Creation is huge music festival, consisting of approximately 60,000 people who bring their tents and camping gear to attend this five day event. The picture above is what the audience looks like when you step on stage to speak.
(if you are 50+ and don't have your reading glasses, the woman on the right is me)
Just to be clear, these people don't gather only to hear speakers. They come to hear great bands like Third Day, Newsboys, Switchfoot, TobyMac, and Rend Collective.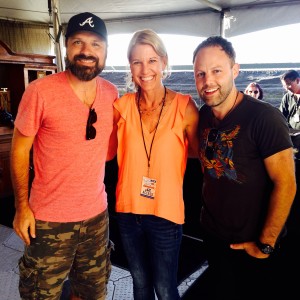 (Third Day wasn't at Creation this year, but I needed an excuse to show this gratuitous photo)
So when you get on stage, your thought bubble is like "Wow".
And then, low and behold, a gigantic storm hit, and people made a mass exodus because it's rainy and muddy and you have no shelter…and heck, I'd leave too.
Except I was scheduled to speak the next morning.
And I'll be darned if they didn't stop the show.
There was a remnant of faithful campers that waded through the flood and the mud and they were going to STICK IT OUT. So Creation stuck it out too.
Because the subtitle of the event is "A tribute to our Creator".
Not "A concert if we have a big crowd".
So on the stage I went, and there were about 100 people scattered in the field where 40,000 sat the night before.
Here's my photo just to prove it:
: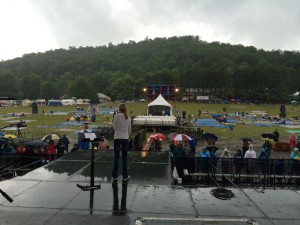 Hardly seems worth it, right?
Wrong. I looked at those faithful few who were weathering the storm, and I went out there and spoke my heart out. The rain came down, and those sweet poncho-covered faces shouted said softly "Amen!" from under their umbrellas.
And afterward, when I met some of those folks, I knew I was exactly where I needed to be.
It was then that I thought about that sign on the bulletin board of that youth pastor's wall.
I know the number required for my audience. And I better keep that straight if I'm going to keep doing this for Him.
So this blog is for all who are using their gift, living their story, and loving on people– and may feel invisible, un-valuable, and alone. The stage looks very different in Heaven than it does on Earth.
Of that, I am convinced.