"The Light at the End of the Tunnel" is defined in the American Heritage Dictionary as the prospect of success, relief, or escape after strenuous effort. However I could define it in 2 small non-word sounds:
Yeeeeee hawwwww!
It's the same sound you make on a horse, when you want it to move to a gallup. A little pre-excitement rush for what is about to ensue.
There may be a few steps left- but they are now numbered. And the endless journey you've been on is about to be through.
And for me, there are two of them.
It's slightly ironic that the words describing my journeys have a one letter difference between them. "Boot" and "Book" have been the overriding themes of my life. But after today, "Edward Scissorfoot" will no longer be my nickname.
To say I'm sorry to see him go might be a big fat lie bit of a stretch.
.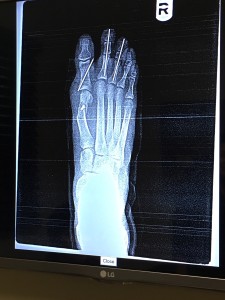 I'm going in this morning to get my three pins removed. Yes Virginia, there will be anesthesia involved. And thankfully my stellar podiatrist, Dr. Chandler, will be running the show (https://www.linkedin.com/in/lindsaymae-chandler-6488a038)
Then on February 15, God willing, I will be turning in my book. I've just begun the last chapter, so the rest of this blog will be short.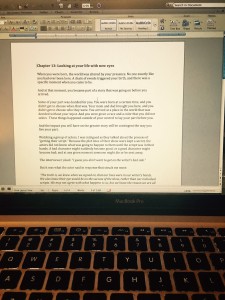 But in between now and then, there's a girl I love that I'm going to Arizona to celebrate. She's seen the light at the end of her tunnel too. And a bunch of us are going to help her dance her way to it.
And suddenly it strikes me that tunnels make the light that much sweeter.
The celebration is bigger when a dark road has led us there. The last chapter of Finding Faith in the Dark says it this way:
"Life reveals that suffering is often the context for great joy. We see this from the beginning, as the cries of a mother's pain brings forth the cries of a baby's first breath. And when we look back on life, we observe a familiar pattern: many of our greatest joys came from our deepest sufferings, almost as if both need to be there for either to be experienced in full."
http://www.amazon.com/Finding-Faith-Dark-Story-Takes/dp/0310337119/ref=la_B00IKAGCDG_1

Perhaps we should try to make friends with the tunnel. For in it we prepare for the even greater light that is to come.
I see the light and it's calling my name.
How about you?