"Mom, I got a tattoo."
"Your dad and I are your new Instagram followers."
"Honey, I just saw your dress on another woman across the room."
"Hey Neighbor! My son is starting a garage band."
Depending on your walk in life, there are a handful of statements that have the potential to send shivers up your spine.
Here's one for me:
"You need to have foot surgery".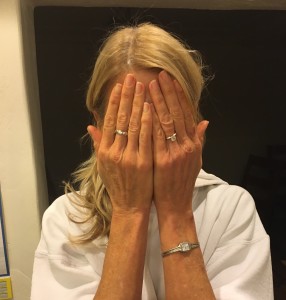 Anyone who knows me well knows the doctor might as well have said:
"I'm going to shoot you 3 times."

I know it sounds dramatic but to say I am an occasional exerciser might be a bit of an large understatement .
What I mean by that is I have an intimate, committed relationship with the elliptical (at my gym) that saves all my other relationships.
I used to be a runner, but when my foot started to get bad, I went into denial and started doing the elliptical instead.
So now, like most runners run,
I elliptical when I wake up.
I elliptical if I've had too much bread.
I elliptical when I need a break from sitting at my desk.
Heck, I'm on the elliptical right now creating this blog.
It's my secret sauce for helping the other parts of my life work better.
"6 weeks recovery", she said; and if you don't do it, it's going to cause major problems in the years ahead.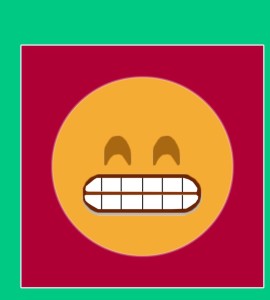 (I turned into an emoji right there in the office)
But here's the crazy thing.
After going through withdrawals, I had a complete awakening after my doctor said those words.
I knew I had to do it. And I had six weeks of no speaking or traveling RIGHT NOW that was paving the way for me to do it in.
I STILL tried to convince her that maybe I could drag my boot into the gym during recovery (she wasn't drinking the koolaid).
But I knew deep down inside that this was as much about my letting go as it was about having surgery.
Have you ever sensed that in your own life?
God wants me to let go and do this thing.
I heard God whisper: "We're going to do this together."
Gulp.
"Come on, it'll be fun."
Ok now you're pushing it.
But deep down I was kind of mysteriously terrified, uh,I mean excited about the unknown path ahead.
When you get news you don't want to hear, it forces a reckoning in your soul.
It's safe to say a lot of things that happen to us have more to do with THAT then they do about the thing itself.
God is doing a work in us.
And sometimes He has to chisel away parts of us to do it.
So on December 22nd, pending my doctor's approval, I am going under the knife.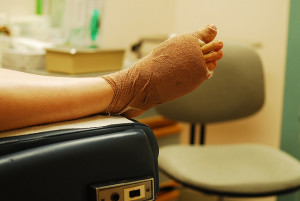 My wonderful, capable podiatrist told me she's going to take care of all of the problems on my right foot all at once. (Including a broken toe and a bunion). (Why is "bunion" such an old sounding word?)
Then, just as matter of factly, she told me I'll just have six weeks of NO DRIVING(!), NO GYM, NO HIKING, NO LONG WALKS, NO WEIGHT BEARING ACTIVITY.
And probably a lot less bread.
I told my husband I'm making up for the days of exercise I didn't take off.
All at once.
And here's the crazy thing- I feel Gods smile.
He's delighting in my fear and inadequacy.
He's delighting that I can't do this on my own.
He's delighting that I'm going to make my deadline on my new book because there will be nowhere else to go.
And strangest of all, I am hearing Him whisper into my soul "Merry Christmas".
The truth is, sometimes the news we don't want to hear turns into something that becomes a great gift.
Because it leaves us different in the end.
Not just because of what it does to us, but in us.
What's that news for you?