I remember the morning well.
It was a few months after I had moved to Santa Barbara, and the pastor I still work for invited me to give the sermon at my church. I was single at the time, and decided to begin by sharing a scene from my life. Here's what I said:
I got up this morning in my apartment, and I was all alone.  I have no husband, so there are no kids. The owner recently put a "For Sale" sign in the front yard, so I probably won't be able to stay in my place much longer. The rent will go up, and I'll be forced to find something else. Dating at my age is not easy, because everyone you meet has baggage. It's just a matter of choosing what luggage you can live with. Whether it's a divorce, shared kids, or all the reasons that accompany prolonged singleness, it's impossible to find anyone I am interested in.  I love it here, but working at a church is one of the hardest jobs a single person can have. You feel your singleness everywhere you go.
I paused, and an awkward silence fell across the crowd. Noticing the pastor staring at me with a look of wonderment (not the good kind), I took a deep breath and started again.
I got up this morning and I had the whole place to myself. It was quiet, and I could do whatever I wanted. The "For Sale" sign is still in front of my place, so I'll be able to live there another month. If it sells, there's a chance I might find something even better. Dating is much easier at my age because you know yourself more. You are better equipped to make a good choice. You also have more grace for the people you date because you realize that circumstances make life complicated. And my job?  Working at a church is such a gift! What a blessing to have an extended family at the place you work when there isn't one at home.
I should have stopped my sermon right there. Because this was the only part of the talk people remembered. (note to preachers: less is sometimes more.) It's been ten years and a marriage since I gave that illustration, and there are still some people who remember it. Somehow it struck a chord, and I think it planted a seed in me that grew into the stirrings for my new book.
Seventeenth century philosopher Blaise Pascal observed:
"There is enough light for those who choose to see, and enough darkness for those who are of a contrary disposition."
He wrote these words to describe his journey toward faith; but they are also true about life.
Where we choose to focus makes all the difference in what we see.
I got some big news last week that the title of my new book (When Changing Nothing Changes Everything) has been approved by the publisher. The subtitle is "The power of reframing your life".
When I googled the word "reframe", here's what came up:
reframe
(riːˈfreɪm) vb (tr)
to support or enclose (a picture, photograph, etc) in a new or different frame
to change the plans or basic details of (a policy, idea, etc): reframe policy issues and problems.
to look at, present, or think of (beliefs, ideas, relationships, etc) in a new or different way.
(Photography) to change the focus or perspective of (a view) through a lens
to say (something) in a different way: reframe the question.
#1, 3 and 4 are actually pretty good clues of what my book is about. (For more, see: http://amzn.to/2wccPvf)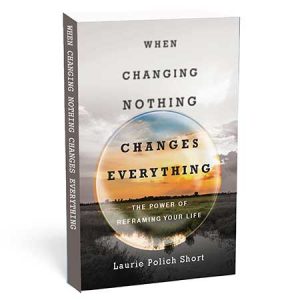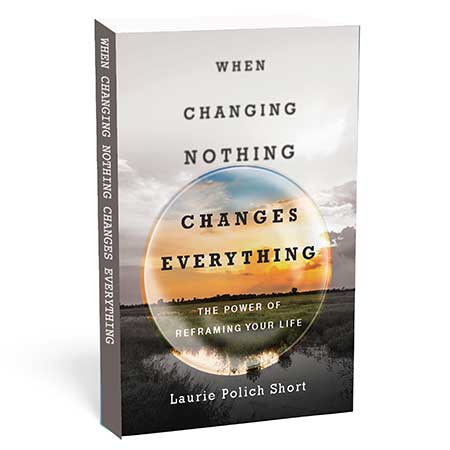 Life has changed since I gave that opening illustration in my sermon 10 years ago. But what hasn't changed is my need to reframe what's in front of me and see all that God wants me to see. Maybe there are days when you could use a little reframing too.
Hopefully this book can help.
PS For any prayer warriors out there, I am speaking at the Focus on the Family women's retreat this week and being interviewed on their broadcast. Would love prayer that people are touched and encouraged in their faith and have a new sense of hope!